---
FORMULA E
2018 Dates
---
Escorted Travel Packages
---
• By Air and Train options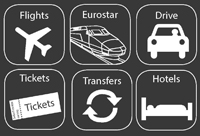 ---
Contact Us

• Phone:
+44 (0)1451 833 721
• Email:


[email protected]
---

---
'Formula E' Motorsport Racing
Select Motor Racing Enquiry Page :
Please complete the enquiry form below or call us for our Event Packages.
FORMULA E 2017/18 CALENDAR
• 1 Hong Kong China &nbsp December 2, 2017
• 2 Hong Kong China &nbsp December 3, 2017
• 3 Marrakesh Morocco &nbsp January 13, 2018 &nbsp VIP Tour Package, please enquire
• 4 Santiago Chile &nbsp February 3, 2018
• 5 Mexico City Mexico &nbsp March 3, 2018 &nbsp VIP Tour Package, please enquire
• 6 Sao Paulo Brazil &nbsp March 17, 2018
• 7 Rome Italy &nbsp April 14, 2018 &nbsp VIP Tour Package, please enquire
• 8 Paris France & &nbsp nbsp April 28, &nbsp VIP Tour Package, please enquire
• 9 Berlin Germany May 19, 2018 19-Apr &nbsp VIP Tour Package, please enquire
• 10 Zurich Switzerland &nbsp June 10, 2018 &nbsp VIP Tour Package, please enquire
• 11 New York City USA &nbsp July 14, 2018 &nbsp VIP Tour Package, please enquire
• 12 New York City USA &nbsp July 15, 2018
• 13 Montreal Canada &nbsp July 28, 2018 &nbsp VIP Tour Package, please enquire
• 14 Montreal Canada &nbsp July 29, 2018

Formula E
Introduction

Formula E is a new FIA single-seater championship and the world's first fully-electric racing series. Commencing in September 2014 through to June 2015, the Championship will compete in the heart of 10 of the world's leading cities - including London, Beijing and Los Angeles - racing around their iconic landmarks. For the inaugural season, 10 teams, each with two drivers, will go head-to-head creating a unique and exciting racing series designed to appeal to a new generation of Motorsport fans.

It represents a vision for the future of the motor industry over the coming decades, serving as a framework for R&D around the electric vehicle, accelerating general interest in these cars and promoting sustainability.

Operating as an 'open championship', the series gives car manufacturers and constructors the opportunity to showcase their electrical energy innovations in a racing environment, designing cars to the technical specifications set out by the FIA.

The Championship centres around three core values of Energy, Environment and Entertainment and is a fusion of engineering, technology, sport, science, design, music and entertainment - all combining to drive the change towards an electric future.

The Sounds

Formula E knows that the noise of any racing car is very important to its fans, which is why the sound of the new Spark-Renault SRT_01E will be one of the Championship's most unique and exciting features. Contrary to popular belief, the Formula E cars are far from silent producing a modern, futuristic sound, combined with the fusion of the tyres on the track, the car's aero package and the electric drivetrain itself.

At high speed the sound produced by one SRT_01E will be approximately 80 decibels, more than an average petrol road car which produces around 70db. Meanwhile, and purely for reasons of safety, an artificial sound will be used when the cars enter the pit lane to ensure they can be heard by mechanics and officials. This will be produced with the aid of an expert sound designer.

And so by reducing excessive noise, fans of all ages will be able to enjoy a new experience in Motorsport with added benefits such as clearer trackside race commentary.

---

We would prefer to talk with you, we are not just an 'Online' Website Company.
However we understand if you just wish to book or enquire online for ease, use the form below which will process your enquiry or comment directly.

I look forward to hearing from you,
Kevin May
Select Motor Racing.