---
FORMULA E
Race Dates
---
Escorted Travel Packages
---
• By Air and Train options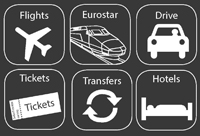 ---
Contact Us

• Phone:
+44 (0)1451 833 721
• Email:


[email protected]
---

---
'Formula E' Motorsport Racing
Select Motor Racing Enquiry Page :
Please complete the enquiry form below or call us for our Event Packages.
FORMULA E 2018/19 CALENDAR
• 1 Hong Kong China &nbsp December 2, 2017
• 2 Hong Kong China &nbsp December 3, 2017
• 1 Ad Diriyah* Saudi Arabia 15 December 2018
• 2 Marrakesh Morocco 12 January 2019 VIP Tour Package
• 3 TBA TBA 26 January 2019
• 4 Mexico City Mexico 16 February 2019 VIP Tour Package
• 5 Hong Kong China 10 March 2019
• 6 Sanya China 23 March 2019 VIP Tour Package
• 7 Rome Italy 13 April 2019 VIP Tour Package
• 8 Paris France 27 April 2019 VIP Tour Package
• 9 Monaco* Monaco 11 May 2019 VIP Tour Package
• 10 Berlin Germany 25 May 2019 VIP Tour Package
• 11 Zurich** Switzerland 09 June 2019
• 12 New York U.S.A. 13 July 2019 VIP Tour Package
• 13 New York U.S.A. 14 July 2019

Formula E
Introduction

Formula E

Introduction
Formula E is an FIA single-seater championship and is the world's first fully-electric racing series.
Started in 2014, the Championship competes in the heart of some of the world's leading cities, racing around their iconic landmarks.
For the inaugural season, 10 teams, each with two drivers, went head-to-head creating a unique and exciting racing series designed to appeal to a new generation of Motorsport fans.

Drivers
Formula E has a variety of drivers with various backgrounds. Several including Nick Heidfeld, Sebastien Buemi and Lucas di Grassi are former Formula One drivers, others have risen through the ranks from other series such as WEC or come from families with a long history of racing such as Nico Prost (son of 4 time F1 champion Alain Prost).

Race Day Format
All events begin with two practice sessions in the morning, an opening 45-minute session followed by a further 30-minute session. Drivers each have two cars at their disposal with 200 kW (270bhp) of power available throughout.

The qualifying session takes place earlier in the day and lasts approximately one hour. The drivers are divided into four groups of five, with each group having six minutes to set their best lap. Full power of 200 kW is available throughout with drivers only able to use one car. Since the second season, the five fastest drivers then go out again, one-by-one, in the Super Pole shoot-out to determine the top five grid positions.

The race itself takes approximately 50 minutes, with drivers making one mandatory pit stop to change cars. The two pit crew help the driver to change seat belts and, for safety reasons, there is a minimum required time for pit stops which differs from track to track. Tyre changes, unless caused by a puncture or damage, are not permitted during the pit stop. In race mode the maximum power is restricted to 180 kW (243bhp). Points are awarded using the standard FIA system.

---

We would prefer to talk with you, we are not just an 'Online' Website Company.
However we understand if you just wish to book or enquire online for ease, use the form below which will process your enquiry or comment directly.

I look forward to hearing from you,
Kevin May
Select Motor Racing.