EVENT MENU | RACE TICKETS | HOSPITALITY | TRAVEL PACKAGES
CLICK the LINKS below

Scroll to Book
Le Mans Events
Hotel Information Page for the 'Independent Traveler'
details below ; Le Mans Classic

We offer a range of accommodation for those on our Self Drive Package or for the 'Independent Traveler' wanting something more ;
Le Mans Centre, Le Mans Nord, Sable sur Sarthe, Le Ferte Bernard and close to Le Mans our range of Manor House's / Chateaux / Auberge / Chalet.
Hotel breakfast is included on all our tours at set times

For our Escorted Tours with Circuit Transfers [ click here ]
---
Independent Travel - Hotels options
---
Hotel Premiere Classe Le Mans Universite
Hotel is only a short drive away or maybe take the tram (stop just outside of hotel) which will take you to the circuit.

Room facilities include Shower and satellite T.V. with integrated alarm. Buffet breakfast - eat as much as you like - includes coffee, tea, hot chocolate, fresh baguette, toast, brioche with butter and jams, cereals and orange juice.

Hotel Reception is open from 6.30 a.m. (7.00 a.m. on weekends) to 11 a.m. and 5 p.m. to 9 p.m

The parking at the hotel is secure and you will need to 'swipe' your room key at night to open the gates.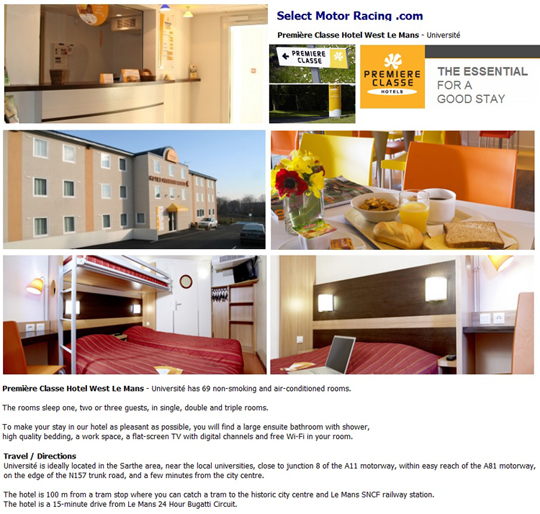 ---
Hotel Facilities
Less than 30 minutes from Le Mans Circuit.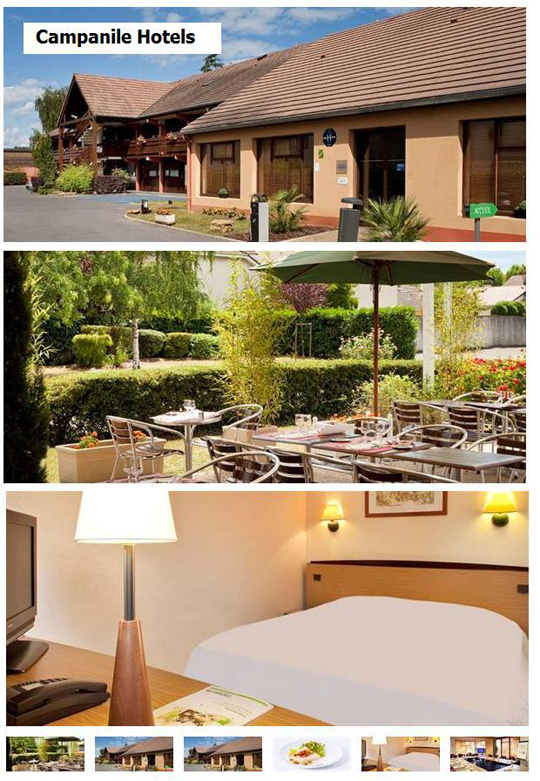 Le Ferte Bernard - Campanile
The hotel has a restaurant where buffet meals are served; breakfast consists of coffee, tea, fruit juice, hot chocolate, cakes, cereals, eggs and cold meat, cheeses, yogurts and fresh fruit.

The guest rooms are equipped with private facilities, tea and coffee 'courtesy tray'. Each room has a television with Canal+ and Canal satellite, a desk with telephone and Free WIFI access.

Reception Hours: From 6:30am to 11:00pm during the week and from 7:00am to 11:00pm at the weekend.

English and Spanish spoken at Reception | • Free parking

SABLE SUR SARTHE - VION - Campanile
The hotel is spacious and well-lit, it's designed with your comfort in mind with newspapers and hotel television with Canal+ and Canal Satellite.

Room offers a choice of double, twin or triple room with connecting rooms.
All rooms have private ensuite facilities with TV, telephone line and Internet.

English and Spanish spoken at Reception | • Free parking
Breakfast buffet from 6:30 a.m. to 9 a.m. offering fruit juice, hot drinks, cereal, pastry and breakfast meats. You can also discover the new Campanile cuisine and enjoy lunch or dinner.
---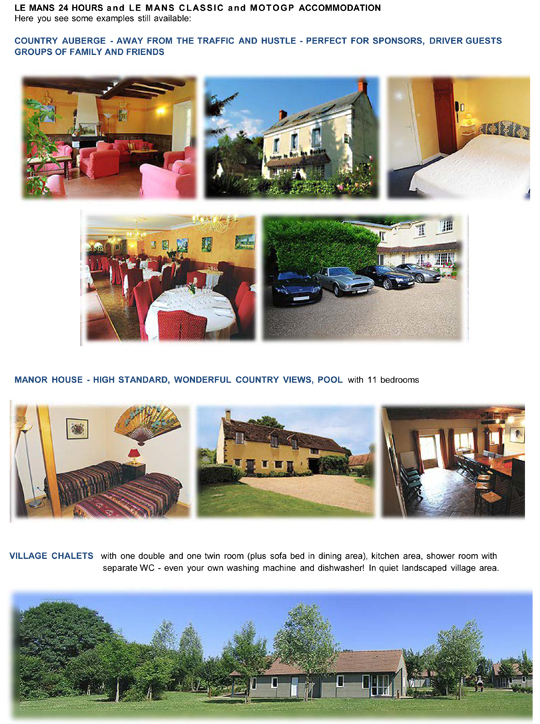 ---
Manor House complex [ click here ]
Ideal for a private group VIP experience just 15 minutes from the circuit. For more information please call or email us Email:

[email protected]
All our Hotels have Certification as issued by the Tourist Authority, your UK Travel Team also stay at these Hotel.
---
How to Book
• Click your Travel Package above, then click / complete the booking form.
• Race Tickets & Hospitality only bookings, click "Race Tickets" above



I look forward to hearing from you,
Kevin May
Select Motor Racing.

Contact Us

• Phone: +44 (0)1451 833 721
• Email:

[email protected]



| | | | |
| --- | --- | --- | --- |
| | | Select Motor Racing - 'Run by Fans for Fans' | |