---
Event MENU

• Mille Miglia
---
Travel Packages
---
• Escorted Tours
• Tour Itinerary
• General Event Information
• Book Online


---
Fully Escorted Tour
with our UK Travel Team

• Arrive Milan from Tuesday
• 5 nights Hotel with breakfast
• 4 night Tour option
• Daily Transfers
• Maranello Excursion
---
Join us and enjoy the moment
---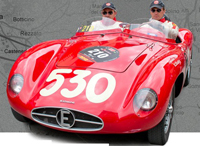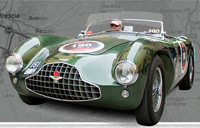 ---
Contact Us

• Phone:
+44 (0)1451 833 721
• Email:


[email protected]
---
Travel Information

• Travel Insurance
• Travel Advice
---
Extra Booking Information

• About our Prices
• Terms and Conditions
• Your Security
• Payment
• Flight Booking Terms
---

---

Mille Miglia
Provisional Date ; Monday 13th to Sunday 19th May 2019
Pre Book Now
click on the links below

For this event we offer our ; Escorted Travel Package
BOOK NOW

For over 30 years, Mille Miglia has been bringing together exceptional personalities to the world of sport. Today, the re-enactment of the Mille Miglia is an event in a class of its own.

Mille Miglia has combined tradition with innovation, and vividly colored that combination with creativity, elegance, beautiful scenery and the Italian way of living. This plethora of rich elements has made the Mille Miglia a symbol of Italian excellence all over the world.
It starts off from Brescia, the beating heart of the Mille Miglia.

Everything happens on a long and incredible weekend in May
Join us for the adventure


Number "7" marks the year the race began again, 1947, the year it ended, 1957, and that of its rebirth, 1977.

Only 375 vehicles are accepted for participation in the Mille Miglia race, selected exclusively from the models that took part in at least one of the historical Mille Miglia races (from 1927 to 1957) and driven by a crew coming from all over the world.

For some, it is "the most beautiful race in the world", for Enzo Ferrari the commemoration is "a unique and fascinating traveling museum, staged in an extraordinary framework of cheering crowds":
Start to

Finish

THE MILLE MIGLIA 2018 It's all change in 2018
The 37th edition of the re-enactment of the Mille Miglia will start on Wednesday 16 May 2018.
The classic route to Rome and back will end in Brescia on Saturday 19 May with stages in Cervia-Milano Marittima, Rome and Parma.
Four days of traveling through the most beautiful places of Italy; passing through the traditional places of the race and long-awaited returns.

Our Journey

OUR MILLE MIGLIA ADVENTURE Two Tour options
Join the Tour in Milan.
Experience Bergamo for the build up and Start.
Bologna 2 nights stay, see the cars in San Marino on day two.
Explore Maranello and onto Parma for our overnight stay.
The cars arrive Parma from 20:30 so we get our daily fix of the action. Saturday we return to Brescia for the End of another great Mille Miglia.
We continue to our Lake Como Hotel and our End of Tour dinner.



How to Book
• Click your Travel Package above and complete the booking form
• Please phone or Email me so I can assist you full.

I look forward to hearing from you,
Kevin May
Select Motor Racing.